2023 VISION BOARD WORKSHOP
December 8, 2022 @ 4:00 pm

-

7:00 pm

$97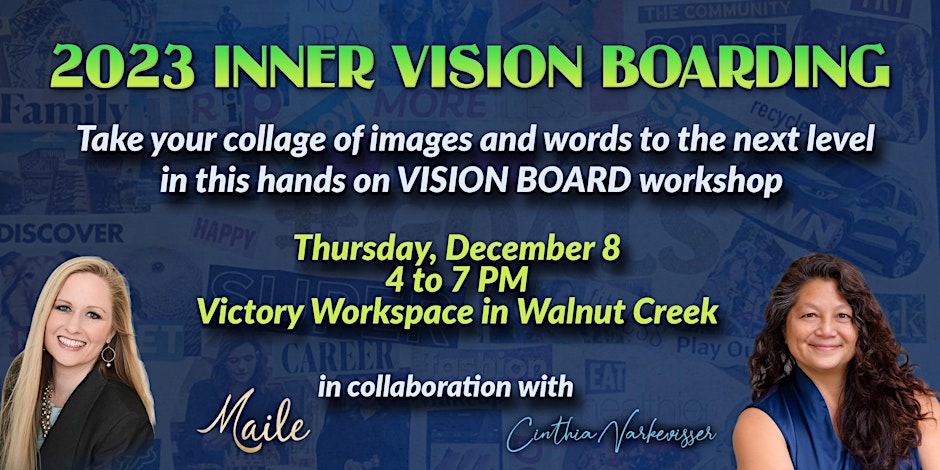 Visual imagery is a powerful tool in creating the success you desire. Why else would medal-winning Olympians and professional athletes use visualization as part of their performance regimen?
"I always visualize the run before I do it. By the time I get to the start gate, I've run that race 100 times already in my head, picturing how I'll take the turns." – Lindsey Vonn, World Cup Winning Skier.
"Whatever your mind can conceive and believe, it can achieve." –Napoleon Hill
Can you fully picture the life you want, what do you see?
Join us on December 8 to create clear articulate goals and assemble the images that can keep your brain in motion towards attaining them. (If you would like a more thorough goal setting session join us on Thursday, December 1.)
Once you create the cohesive vision as you build a display of what you want to do/be/have in 2023 and years to come, we'll discuss some additional tips in how to make your goals a reality. Then we'll really take your vision to the next level. Using intuition and intention exercises with your collage, you will:
• Discover the difference between desire, goal and confidence boost then determine what your board will hold
• Uncover the bond that ties together all images and words on your board
• Find the thought that unifies all your goals — short and long term
• Create a personal motto/mantra to amplify the energy for your 2023 intentions
• Turn your board into an active mechanism for daily action
We will have magazines, scissors, and glue sticks to share. Feel free to bring your own pictures and supplies. This will be a fun and creative way to work on your goals!
Victory Workspace members, enter code VICTORY at check to receive a 50% discount!